Tänkte tipsa er lite om vårens sminktrender. Trenderna är ganska oväntade i år, speciellt för att vara vårtrender. Det verkar nästan lite som att trenderna från hösten jobbat också jobbat sig in på vår säsongen. I och för sig är detta ju mer plånboksvänligt :)
I thought I've give you a run through of the spring makeup trends. The trends is quite unusual this year, it's almost like the fall trends has continued into the spring. Well, at least that will be nice for you wallet :)
Anthony Vaccarello

(http://wwwcdn.dailymakeover.com/)
Bold Blues and Greens
Blått och grönt är definitivt vårens innefärger då det gäller ögonskugga och liner. Nyanser som indigo, azur- och kornblå, jadegrön och turkos var speciellt populära så de stora modehusen presenterade sina vårkollektioner. Användningen av färgerna var ändå rätt så kontrollerad så lookerna kan lätt adapteras och till vardags.
Blue and green are definitively the colors of this spring when it comes to eyeshadow and even liner. Shades like indigo, azure, aqua, jade and turquoise were especially popular when the big fashion houses presented their spring collections. The use of the colors where quite controlled, not too wild or extreme, so the makeup could easily be adapted into everyday looks.
Jean Paul Gautier

(http://www.harpersbazaar.com/)
Lush Lashes
I vår är det ögonfransarna som står i fokus. Trender är inspirerad av 1960-talet men lite mer nertonad och modern. Det är tunna, långa och flirtiga lösögonfransar som gäller.
This spring it's all about lashes. The trend is borrowed from the 1960's but a bit more toned down and modern. However, the look is not to be perceived as totally natural. So it's time to get out your long, wispy and flirty lashes and start playing with different looks.
Miu Miu

(http://en.vogue.fr)
Eye catching Eyeliner
Den dramatsika eyeliner trender fortsätter rätt in på våren. Glöm dina tunna fjuttiga eyeliner sträck och satsa på en vågad vinge à la Amy Winehouse i stället. I vår lönar det sig också att experimentera med andra färger än bara klassika svarta & bruna eyeliners.
The dramatic liner trend continues into this season as well. Forget those thin wimpy eyeliner strokes and go for a bolder thicker line à la Amy Winehouse. Also dare to step outside the box and try other liner colors than black and brown.
Valentino

(http://2.bp.blogspot.com/)
Strong and Beautiful Brows
En annan trend som höll i sig var det tjocka och väldefinierade ögonbrynen, tänk Cara Delevingne. Trenden härstammar från 90-talet och är inspirerad av de ikoniska supermodellerna Cindy Crawfords och Linda Evangelistas ögronbryn. Detta nog en av mina favorittrender, älskar tjocka och "buskiga" ögonbryn!
The strong and well-defined eyebrows, think Cara Delevingne(!), was another look that came to stay. The trend originates from the 90's and pretty much inspired by the brows of the iconic super models such as Cindy Crawford and Linda Evangelista. I personally love this trend so much!
Gucci

(http://www4.pictures.stylebistro.com)
Glowing Skin
Fräsch, naturlig och lystrande hud är absolut en återkommande vårtrend. Den ackompanjerar även det andra mer vågade och dramatiska trenderna perfekt. För att uppnå looken användes flytande foundation, flytande highlighter, flera olika nyansers rouge och concealer endast där det absolut behövdes.
Fresh, flawless and glowing skin is definitely and recurring spring trend. The natural base accompanies the other stronger and more dramatic spring trends perfectly. To achieve the look liquid foundation, liquid highlighters, several different shades of blush and concealer (only were it was absolutely needed!) was used.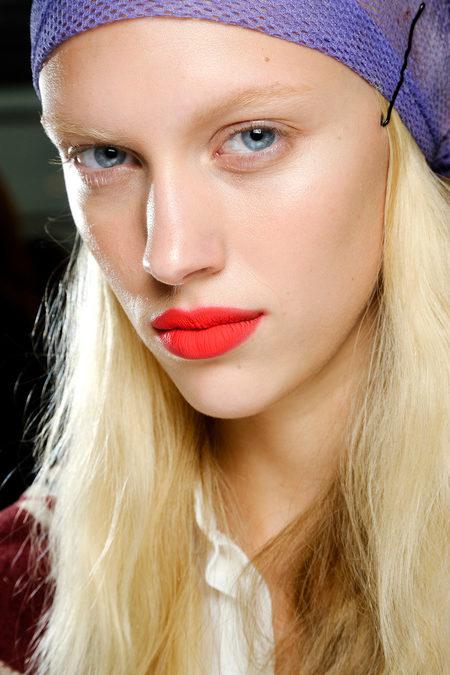 Missoni

(http://m5.paperblog.com/)
Red Lips
Vanligtvis hör röda läppar hösten till men i år är tvärtom, de röda läpparna tog över våren med ett boom. Det röda nyanserna varierar allt från klassisk röd och mera rosa röda till djupa, mörka körsbärsröda nyanser.
Usually red lips are more of an autumn trend but this year they took over the spring with a boom! The red shades used vary from the classic pin up red and more pinky reds to deep dark cherry red tones.
Vad tycker ni om vårens trender? Är det något ni speciellt gillar / ogillar, berätta gärna i kommentarsfältet!
What do you think of the spring trends this year? Is there something you really like / dislike, let me know in the comment field below!